Occasional Updates from FPC's Very Own YAV, Lena Kennedy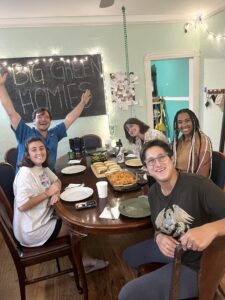 My second year as a Young Adult Volunteer has gotten off to a great start! After spending August home in Ohio, I met all of the national and international YAVs at national orientation in Atlanta. From there, my fellow New Orleans YAVs and I traveled to New Orleans and began local orientation. During our New Orleans orientation, we did a walking tour of the French Quarter, ate local cuisine, volunteered at various nonprofits, visited a couple museums, and got to know each other and the expectations of our program.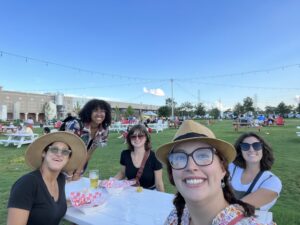 After a week of orientation, we all hit the ground running. Because of the new community partners this year, several of us have multiple volunteer placements. I am continuing my work at Midcity Ministries, where I tutor four 1st graders, a group of middle school girls, and I teach bible class to all the middle schoolers. These kids and my fellow workers at the tutoring program are a huge part of why I decided to do a second year.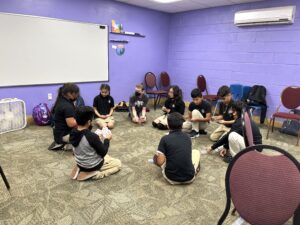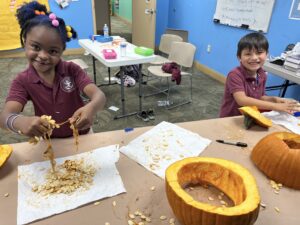 I'm also continuing to do volunteer coordination, fundraising, and mission trip planning at St Charles Ave. Presbyterian Church in their RHINO or "Rebuilding Hope in New Orleans" office. On Wednesdays I help at Okra Abbey–a community garden and church as a part of the PCUSA's 1001 New Worshipping Communities–at their weekly community meal called Grace and Greens. We prepare a hot meal and sit down together to share food with community members. The food grown in the garden is also given away to community members.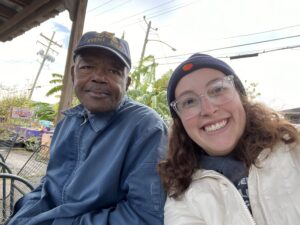 Finally, I spend Thursdays sorting donations (or "whatever Miss Bonnie tells us to do," such as painting or building fences) at the Berean Community Center. These various placements certainly keep me on my toes!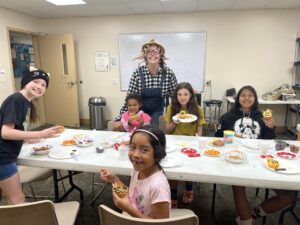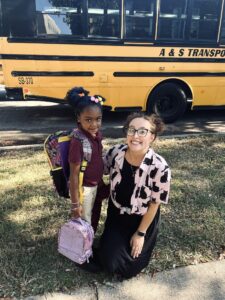 At the beginning of October we went out to Lafayette for our first retreat of the year. Our 3 retreats of the year are 4 days where we learn more about the culture of southern Louisiana, volunteer, rest, try new foods, and grow closer to each other and our spiritual practices. During our first retreat, we specifically focused on the Cajun culture and the struggle of the Acadian peoples throughout history and also today. We learned how to dance Zydeco and listened to wonderful southern Louisianan music.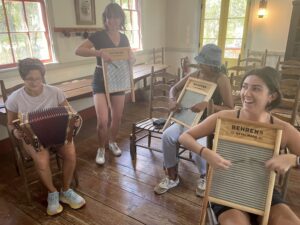 Part of our first months in New Orleans, we put on "This is Me" presentations for our fellow housemates to share our family foods, traditions, and our lives that brought us to the program and our city. I'm very blessed to share my house and community with 4 fellow volunteers: Khyah Van Es from Wichita, Kansas; Lucy Ham from Raleigh, NC; Hallie Conrad from Clemson, SC; and Caroline Kothari from Philadelphia, Pennsylvania.
Most of our host families have been able to host us for dinner at their homes. Although we all live together in the Big Green House, we are still assigned "host families" to be a little home away from home and help us acclimate to the city.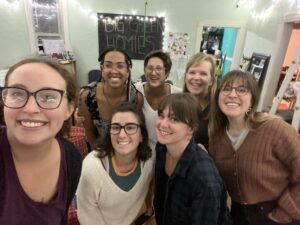 We work hard and play just as hard! Some of our favorite things to do together in the city are listening to jazz and Zydeco, swing dancing, karaoke, and walking in City Park and along Bayou St John. In late October we did pumpkin carving with a local church and the New Orleans Halloween parade.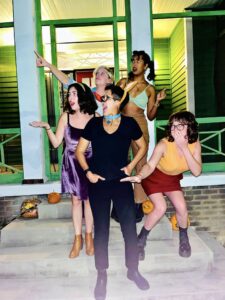 The beginning of November we attended our first Presbytery of Southern Louisiana meeting of the year. At these meetings, we volunteer doing set up and registration, lead worship, and watch how a Presbytery meeting happens. This is a wonderful opportunity for us to meet people in our Presbytery who support us in many ways and also give back.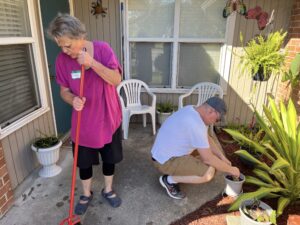 I have finally found a home church in New Orleans where I attend regularly with my housemate Caroline. I met the pastor of John Calvin Presbyterian Church at another volunteer day back in the spring and had been waiting for the opportunity to visit. Pastor Aaron and their congregation are very welcoming and I love the beautiful organ music and in a smaller church setting.
We are closing in on the holidays already. There has been an unusual fall chill in the air. Most of my fellow volunteers are heading home for Thanksgiving, but Khyah and I will host Friendsgiving for anyone still in town. I'm looking forward to being home for Christmas and hope to see many of my friends and family, and especially my FPC congregation. I cannot thank everyone enough for the support back home!